It is no longer news that food is the most important necessity of mankind. The demand for food especially our very own African recipes can never outweigh the supply. There will always be a market for food. As long as we stay in this world. There are a whole lot of african dishes if only but to mention a few which are in high demand allover the country. Some of these dishes are;

Pap en vleis/Shisa nyama, South Africa:
Barbecued meat and maize porridge is a combination dearly beloved across many cultures in Southern Africa, and particularly in South Africa, where the braaivleis is a treasured institution and practically a national sport.
"Pap en vleis" (literally, "maize porridge and meat") is a colorful umbrella of a term that encompasses virtually any combination of starch and braaied or stewed meat, with an obligatory side-serving of spicy gravy, relish or chakalaka.
Shisa nyama, meaning "burn the meat" in Zulu, has come to refer to a festive "bring-and-braai" gathering; Shisa nyama restaurants are often located next to butchers' shops so patrons can select their own meats and have them cooked to order over fiercely hot wood fires.
Chops, steak, chicken, kebabs and boerewors — a spicy farmer's sausage — are accompanied by maize porridges in many different forms including phuthu and stywe pap, krummelpap (crumbly porridge), and suurpap (soured pap).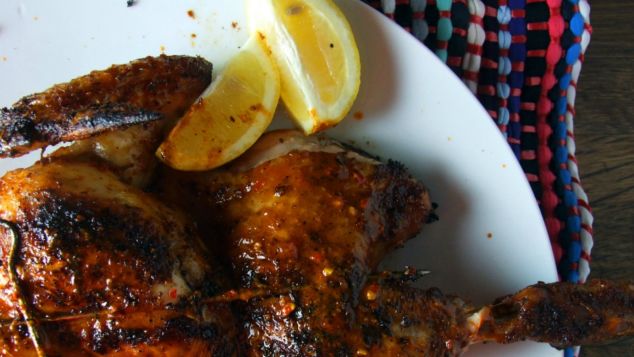 Piri piri chicken, Mozambique:
Mozambique's cuisine is a heady blend of African, Portuguese, oriental and Arab flavors — think fragrant spices, hot piri piri and creamy coconut sauces, with hints of cashews and peanuts.
Sizzling, spicy prawns and seafood are often a first choice for visitors to Maputo, but don't miss the iconic Mozambican dish Galinha à Zambeziana, a succulent feast of chicken cooked with lime, pepper, garlic, coconut milk and piri piri sauce.
It's generally known simply as grilled chicken piri piri by tourists, and is traditionally served with matapa, a dish of cassava leaves cooked in a peanut sauce.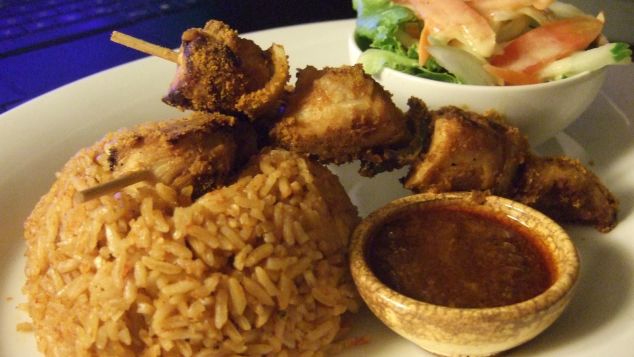 Jollof rice and egusi soup, Nigeria:
It's not easy pinning down a national favorite dish for Nigeria, because this is a vast country with many distinct regional cuisines.
But one dish you shouldn't leave Nigeria without eating is jollof rice, a great favorite all over West Africa, and one that is thought may be the origin of the Cajun dish jambalaya.
A simple, spicy one-pot dish comprising, at its most basic, rice, tomatoes, onions and pepper, it's often served at parties and other festive gatherings, along with other Nigerian favorites such as egusi soup (made with ground melon seeds and bitter leaf), fried plantains and pounded yam (iyan or fufu).
Other dishes to try in Nigeria include thick, spicy broths made with okra and flavored with chicken or meat, and suya, which are spicy Nigerian shish kebabs (similar to Ghana's chichinga) cooked over braziers by street vendors.

Bunny chow, South Africa
No one's quite sure how bunny chow came to be named, but what is certain is that this hollowed-out half- or quarter-loaf of white bread filled with a blistering-hot curry is one of South Africa's most treasured street foods.
The meat and vegetable curries that fill bunny chows were bought to South Africa by Indian indentured laborers who came to South Africa in the 19th century to work on the sugar-cane fields.
Available as takeaways in all major cities, but the best bunnies come from Durban.
Kapenta with sadza, Zimbabwe:
A heap of crisp-fried kapenta is the culinary highlight for many visitors to Zimbabwe.
Kapenta, comprising two species of small freshwater fish native to Lake Tanganyika, were introduced to Lake Kariba and now are a much-loved source of protein for lakeside populations of Zambia and Zimbabwe.
Like many African dishes, kapenta is often accompanied by a mountain of delicious maize porridge, known in Zimbabwe as sadza. Kapenta is available both dried and fresh, and is also stewed with tomatoes, onions and groundnut powder, and served with fresh greens.
Don't pick up a knife and fork to devour your kapenta: the traditional way to eat this dish is to scoop up the sadza with your hand and to dip it or roll it in the accompanying fish and relishes.
Another must-try dish when visiting Zimbabwe is fresh bream or tilapia from Lake Kariba, grilled or fried with plenty of lemon butter.
Chambo with nsima, Malawi:
The eyes of Malawians away from home may well fill with tears when you say the word "chambo" to them — it's the most popular and best-known fish found in Lake Malawi, and a great national favorite.
It's served grilled along the lake shore, usually with nsima (a stiff porridge very similar to South Africa's pap and Zimbabwe's sadza) or with chips.
A plate of chambo is not complete without ndiwo, a delicious relish made of pumpkin or cassava leaves, tomatoes and groundnut powder. Both nsima and ndiwo are revered staple foods in neighboring Zambia, along with Ifisashi, a dish of greens in a peanut sauce.
Namibian venison, Namibia:
Good venison can be sampled all over Southern Africa, but Namibians will insist that the very best gemsbok, kudu, zebra, warthog, ostrich and springbok is to be found at restaurants and game lodges across their country.
Namibian cuisine shows strong German and South African influences, with traditional German delicacies such as sausages, cured meats, sauerkraut and Eisbein rubbing shoulders with South-African style potjiekos, biltong and braaivleis.
Try your venison with traditional staples oshifima (maize porridge) or mahangu (pearl millet) and, of course, a hearty tankard or two of fine Namibian beer.

Muamba de Galinha, Angola:
This dish, like the popular Caldeirada de Peixe (fish stew) reveals the strong influence of Portuguese cuisine on this former colony, and is considered one of Angola's national food treasures.
Also known as chicken muamba, this is a spicy, somewhat oily stew made with with palm oil or palm butter, garlic, chilis and okra. Variations of chicken muamba, such as poulet moambé, are to be found all over the Congo River region, where it's often served with cassava leaves and white rice.
Another variation, nyembwe chicken, is the national dish of Gabon, where it is made with palm or macadamia nuts. Being so rich and spicy, chicken muamba is a good accompaniment to central African starchy porridges considered bland by western palates: funge, fufu and ugali.
Caldeirade de Cabrito is another of Angola's favorite dishes; this goat or kid stew is cooked with potatoes, wine and tomatoes and often eaten to celebrate Independence Day on November 11.
Cape breyani, South Africa:
A treasured classic of Cape Malay cuisine, breyani is a fragrant dish comprising layers of marinated meat, rice, lentils and spices topped with crisp-fried onions and hard-boiled eggs.
This one-pot, slow-cooked dish, a favorite for feeding large crowds at special occasions and celebrations, was bought to the Cape from the East during the earliest days of the slave trade, along with other "Malay" dishes such as bredies, pickled fish, denningvleis and bobotie.
Egusi Soup is prepared from melon seeds and is enjoyed in most parts of Nigeria. Melon seeds are rich in protein and fats. The soup is usually complimented with leafy vegetables which makes it more nutritive and appealing.
Making of Nigerian and African dishes can earn you as high as up to N500,000.00 per week and even far more than that.